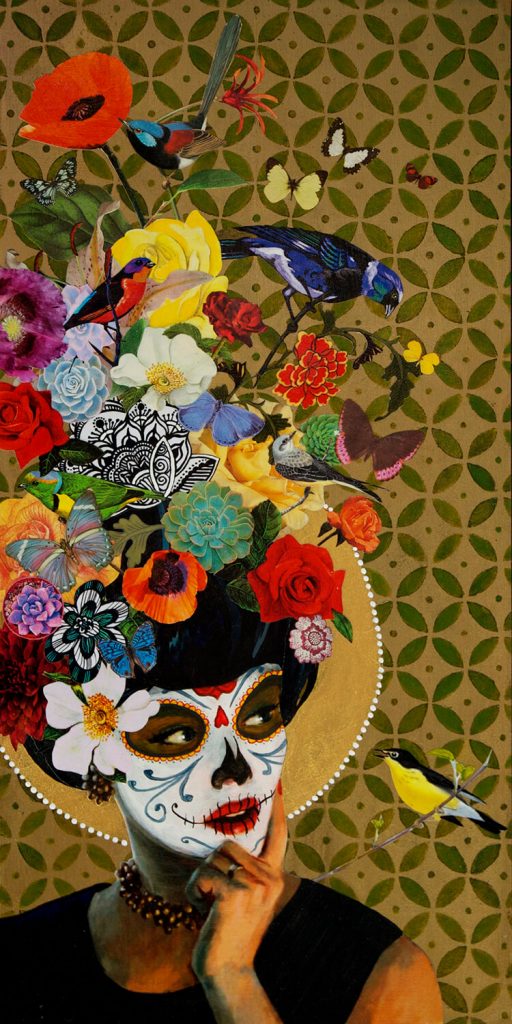 "This is a story of a little girl who lived in the arctic territories. Under the northern lights and on the land of the midnight sun, she found her passion for art and was taught how to use a paintbrush. But feeling no emotional connection to the snow or to the cold, the hands of destiny gradually guided her south towards the ocean. It was there where she fell in love with a sailor and created a family. The wild coast and natural island life was truly inspirational and nurturing to her creativity. But feeling no emotional connection to the rain and grey winters, the hands of destiny guided her once again…further south. This time they brought her to a Magical Town. In a warm and beautiful landscape where the whale met the cactus – a happy, sunny and adventurous place where she is inspired daily by all the Colourful Life that is there."
Trisha Oldfield is an emerging multi-media collage artist. Her work possesses a distinctive contemporary style – a result of her strong background and experience in graphic design and commercial illustration. Her collages are composed of custom and vintage photographs and illustrations, acrylic paint, pouring mediums, specialty papers and wood – all orchestrated together into detailed and whimsical compositions. Her newest series "Colourful Life" blends the fascination and inspiration she has found in "Mexicana" icons and vintage paperback cover illustrations with the beautiful colors, shapes and patterns found in nature.
When we decided to launch Syntax and Salt, we all agreed that pairing magical stories, with incredible art was tremendously important. When we had the pleasure of viewing Trisha's work, there was a collective gasp. Between Magical Realism's roots in Latin America, the rich, bold colors in her work, and the definite feeling of story that each piece has, this was a match made in heaven. We believe you will be as enamored as we are, and want to provide a sneak peak at this stunning work before Issue 1 launches. Please check Trisha's work out here. Trisha also considers commissioned work, and would love to speak with you if that's where your interest lies.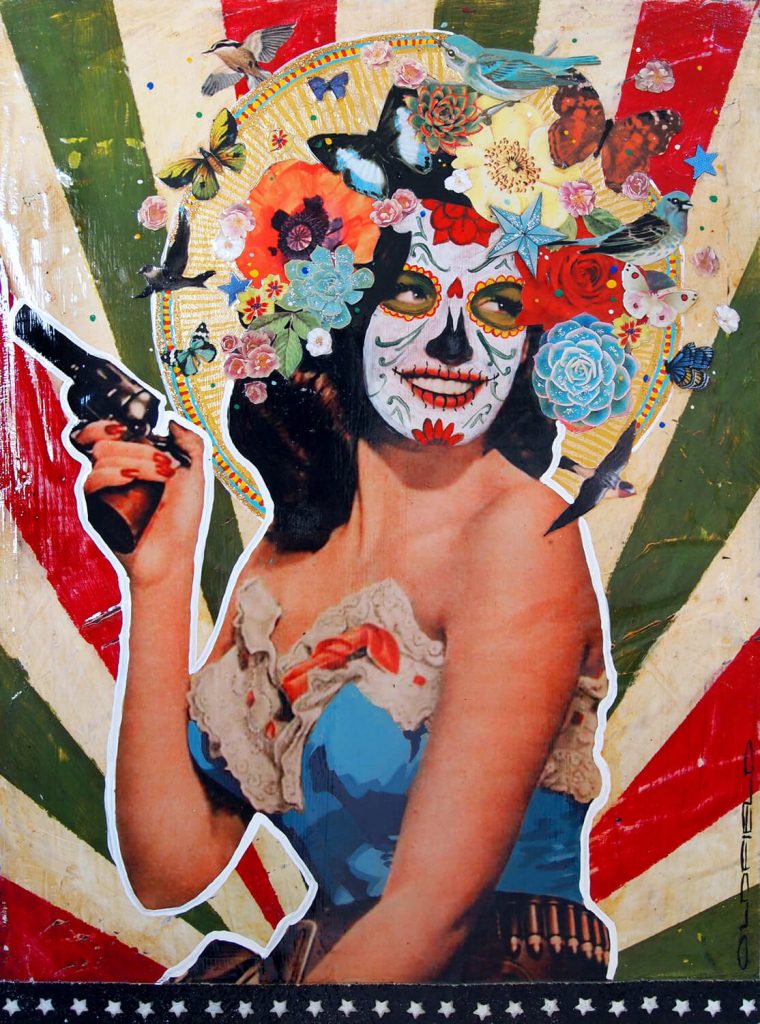 A word from Trisha: I have fallen in deep inspiration with the rich culture I've observed in Mexico for the past 15 years. The colours, the patterns, the people and their personalities and traditions and most of all, the diverse natural landscapes. This inspiration has resulted in a series I have been having a love affair with called "Colorful Life". This series has thrown me into the arms of a medium called mixed media collage and I will never look back. I love collage because of its spontaneous, forgiving and narrative nature. It is therapeutic. I feel I can express myself better with this medium more than I can with just a paintbrush or with just a camera. It not only opens a world of impossible associations but can harmoniously link thoughts, styles and even artistic technique used throughout history. It breathes new life into old discarded forgotten art that should be appreciated and admired.
I currently live on Vancouver Island – but only when its warm and sunny. In the winter, I live in the Magical Town of Todos Santos, next to the whales and the cactus with my supportive husband and beautiful daughter. Thank you for taking the time to look at my work. Please keep in touch if you want to follow my artistic journey. My website is www.trishaoldfield.com and FB is Trisha Oldfield, fine artist.